Certified Employee Performance Professional - Online Course

Introduction
This online training course is a great opportunity to access the best practices in the field of employees' performance.
You will gain the knowledge, skills, and confidence to create an environment where employees can thrive and successfully contribute to the organizational performance, by linking their activities to strategic objectives and reflecting their contribution against the company's strategy.
Bonus: Premium subscription on smartKPIs.com - Available for 6 months, providing access to 500 fully documented KPIs and over 20.000 KPIs enlisted and one research report from the Top 25 KPIs series.
Benefits
Nurture core competencies in order to design, implement, monitor, evaluate and follow a performance management cycle in a successful manner;
Improve the visibility and clarify accountability related to performance expectations;
Implement the knowledge acquired during the training course, by accessing a set of performance management tools and relevant;
Identify the necessary corporate competencies and skills gaps to generate sustainable growth.
Learning objectives
Understand the fundamentals of the performance management framework;
Learn how to track the employee performance during each phase of performance management cycle;
Apply key tools to measure employees' results in a fair and objective manner;
Learn how to conduct efficient performance appraisals;
Gain the knowledge of developing a Performance Management System business case.
Educational resources
The qualitative reports Performance Management in 2012 and Performance Management in 2013;
Webinars: Access to all Performance Maanagement webinar series from 2014 to 2020;
Catalogues: Negative Behaviors, Targets in Practice, Graphs in Practice;
Video doodles: 11 videos dedicated to Performance Management;
Other resources consisting in videos or case studies relevant for implementing and using OKRs.
Evaluation
The certification is the result of a complex, experiential learning program that has 3 sections: pre-course activities, core-course exercises and post-course assignments. The process will be finalized and your Certified Employee Performance Professional diploma granted after successfully completing all 3 stages of the learning experience. The Diploma will certify your skills and knowledge related to the Employee Performance Professional system.
Agenda
Module 1 - Employee Performance Management Context
Introduction to Performance Management
Benefits of implementing an Employee Performance Management System
Prerequisites of an Employee Performance Management System
Employee Performance Management Governance
Traditional vs Agile Employee Performance Management
Module 2 - Employee Performance Management Architecture
Tools used in performance management
Employee Performance Management System architecture and specific tools
Module 3 - Employee Performance Management implementation project
Importance and specific elements of a business case for an implementation project
Stages in Implementing an Individual Performance Management System
Module 4 - Establishing Performance Criteria
Cascading objectives and KPIs from the organizational to the departmental and individual levels
Defining and selecting competencies
Defining and selecting behaviors
Module 5 - Evaluating Employee Performance
Evaluating KPI results
Assessing competencies and behaviors
Evaluating overall performance
Challenges and pitfalls in reviewing individual performance
Module 6 - Employee performance management cycle
Performance management cycle
Employee performance planning
Mid-year and annual performance review
Module 7 - Employee performance appraisal meeting
Preparing for the appraisal meeting
The appraisal meeting
Feedback techniques
Module 8 - Talent management
Linking performance evaluation to talent management
Employee performance plans: career path, development plan
Compensation and benefits
What motivates people?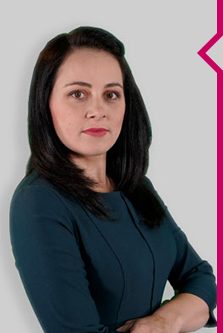 Silvana Bădiță is a Business Research Analyst of The KPI Institute, a research institute specialized in business performance, which operates research programs in 12 practice domains ranging from strategy and KPIs to employee performance and from customer service to innovation performance.
As a research analyst, she has contributed to the development of the smartkpis.kpiinstitute.org, the worlds largest database of documented KPIs, through the documentation and update of +100 Key Performance Indicators.
Her other responsibilities include contributing to research reports and publications on performance management and measurement related topics, as well as the customization of training and consulting materials for different functional areas and industries, as part of the educational services delivered to customers. She also provides support in consultancy projects that require off-site documents preparation, analysis and research.
Silvana holds a PHD in management, and due to her passion about creating organizational cultures that inspire passion and engagement from employees she is the facilitator of The KPI Institute's Certified Employee Performance Management Professional training program in online-recorded format.
What is the difference between the face-to-face course and the online course?
The course structure is the same, regardless of the delivery method. However, the autonomy given by the self-paced instruction is balanced by the lack of live interaction with the facilitator and other participants while attending.
What are the prerequisites for taking a course?
There is no prerequisites required.
Who should I contact if I have questions throughout the course?
You can communicate with your instructor through the eLearning forum or by email. You are highly encouraged to use these modes of communications.
How do I register for an online course?
You can register for an online course the same way you would register for any training course organized by The KPI Institute.
If you enroll through The KPI Institute Marketplace, after paying the course fee, you will receive a confirmation email containing the instructions and the credentials to access your online course.
If you enroll by fax or telephone, you will also receive your confirmation and instructions by email.
Where and how can I access the e-learning content? Are there any limitations?
Once you register with us for a course by paying the course fee, you can have 24/7 access to the e-learning content on our website. An automated course purchase confirmation email from our side will guide you through the process.
How can I download course materials?
Downloadable course materials are available on our eLearning Platform. These include course slides, assignment templates and supplemental documents that will help you brush up or dive deeper on concepts within that course. However, video presentations are not available for download.
What kind of computer equipment do I need in order to take an online course?
Operating Systems: Windows 7 and newer, Mac OSX 10.6 and newer, Linux - chromeOS.
Browsers: You must update to the newest version of whatever browser you are using. We recommend using Chrome, Firefox or Safari, beta versions of browsers are not supported and Internet Explorer is problematic. Please make sure that your web browser has JavaScript and cookies enabled.
How often should I take breaks during the online course?
We recommend to take periodic breaks while attending the online course. As an example, you may take 10 - 15 minutes at every 1 - 2 hours.
Who do I contact for technical support?
If you are experiencing technical difficulties, contact our Customer Service team: [email protected] or +61 3 9028 2223
Online Purchasing Instructions
Choose a product and add it to the cart
Add more products or proceed to checkout
Fill in all the information and finalize the order
Check your email for confirmation and details